Celebrate Christmas in style at Leopold Square in Sheffield
The festive season is upon us, and what better way to celebrate than by gathering with family, friends, or work colleagues. Located in the heart of the city centre, Leopold Square has a lot to offer this Christmas, with its renowned restaurants and bars, and a stunning hotel coming together to create an unforgettable experience. This is where the magic of a Christmas party in Sheffield truly comes alive.
A culinary journey around the world
Leopold Square is home to an array of restaurants and bars that bring together the flavours of the world in a single location. This Christmas, they'll be taking your taste buds on a global adventure. From mouthwatering Italian delicacies to zesty Asian fusion, and from hearty British roasts to contemporary international cuisine, there's a plethora of options to explore.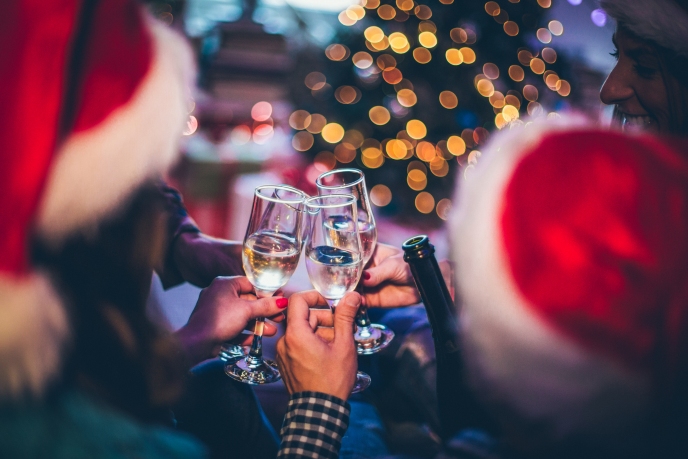 The restaurants here are offering special Christmas menus that will tantalize your taste buds with a variety of flavours.
1. Classic Christmas dinner . . . with a twist
Of course, it wouldn't be Christmas without a bit of turkey and all the trimmings, and you'll find it at The Botanist, but with a unique twist. They'll be serving up mouthwatering turkey kebabs that are sure to surprise and delight your taste buds, alongside a range of other lip-smacking dishes. This innovative take on a festive classic is just one of the many reasons why celebrating Christmas at Leopold Square is an unforgettable experience.
The Botanist: Two-course Christmas menu £27.95 per person / three-course Christmas menu £34.95 per person. Available between 20th November and 24th December 2023.
2. Italian delights
If you're in the mood for some Italian cuisine, you're in luck. Zizzi offers a delectable Italian Christmas menu perfect for a festive celebration. From creamy risottos to traditional pasta dishes, you can savour the authentic tastes of Italy right here in Sheffield, as well as try some special seasonal cocktails, including gingerbread and Black Forest martinis.
Zizzi: Three course Christmas set menu from £25.95 per person. Available between 7th November 2023 and 2nd January 2024.
3. Asian indulgence
For those who prefer more exotic flavours, Leopold Square offers a range of Asian cuisine. Whether you're in the mood for the taste of Vietnamese street food from Pho or Japanese flavours at Wagamama, there's something to satisfy every palate.
Pho: Two-course Christmas menu £21.95 per person / three-course Christmas menu £25.95 per person. Available between 1st and 24th December 2023 for parties of five or more.
Wagamama: Enjoy three courses and a glass of Prosecco or mindful drink for £31.00.
4. Christmas, Latino style
Why not infuse a bit of Latino flair into your Christmas at Cubana? Enjoy a festive feast with a Latin twist, indulging in a tantalizing array of tapas while grooving to the rhythm of lively music. The combination of delectable dishes and spirited dancing will transport you to the streets of Havana and a world of Latino-style Christmas cheer right in the heart of Sheffield.
Cubana: Various options available from a bar buffet party menu for £16.95 per person, to an evening tapas party set menu for £29.50 per person. Available between 1st and 30th December 2023.
Raise a glass at the bars
Leopold Square isn't just about fabulous food; it's also home to some of Sheffield's most stylish bars. From classic cocktails to rare spirits, the bars here know how to keep the Christmas spirit alive and are perfect for raising a toast to the season. Whether you're a fan of craft beers, fine wines, rum or cocktails, there's something for everyone. The festive season sees the bars decked out in seasonal decor, creating a warm and inviting atmosphere for a Christmas party to remember.
1. Craft beer heaven
For beer enthusiasts, you'll find a wide selection of craft beers at The Botanist. Sip on a seasonal brew while enjoying the lively atmosphere of the square.
2. Wine lovers rejoice
Wine lovers will appreciate the extensive wine lists available at the bars. From rich reds to crisp whites, you can pair the perfect wine with your Christmas meal.
3. Cocktails and cheers
Cocktail aficionados will love the specialty holiday drinks offered at the bars – especially Bamboo Door and Kuckoo, which both have extensive cocktail menus. Whether it's a spiced mulled wine or a frosty martini, the bartenders are ready to craft the perfect concoction to celebrate the season.
4. 'tis the season . . . for rum
For those who want to warm up with a bit of tropical flair, Cubana at Leopold Square goes the extra mile by offering an extensive selection of rum – in fact, it has 305 different varieties! From spiced and aged rums to delightful rum cocktails, the offerings are a true treasure trove for rum enthusiasts and festive revellers alike.
Festive ambiance at Leopold Hotel
If you're planning a Christmas getaway or looking for a place to stay after the party, Leopold Hotel Sheffield has you covered. The stunning accommodation provides a festive ambiance and comfortable lodgings for those wanting to make the most of their Christmas celebrations.
Leopold Hotel Sheffield offers relaxation and luxury, with beautifully decorated rooms to make you feel right at home. Head over to their website to view their seasonal offers.
Leopold Square in Sheffield is the ideal place to celebrate Christmas this year and the place to create lasting memories with your family, friends, or work colleagues. A Christmas party at Leopold Square will be one to remember, as you dine on international delights, raise your glass to good times, and immerse yourself in the festive ambiance of the square. Don't miss the opportunity to experience the magic of Leopold Square during the most wonderful time of the year.